3/50 Plan to Save Local Businesses is Picking Up Steam
The Poster and the Concept... Click HERE
http://www.the350project.net/home.html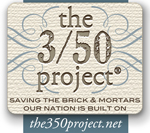 Local Efforts to Save Main Street Bring In Traffic

Campaigns Give Neighborhood Stores Short-Term Boost, but Long-Term Effects on Businesses Remain Unclear...
By
RAYMUND FLANDEZ
Ginger MacCutcheon's tiny pet supply shop is no Petco or PetSmart, but lately she has managed to turn that to her advantage.
After her store, Ginger Pet House, came close to folding this past winter when sales slipped 35%, Ms. MacCutcheon
got involved with the 3/50 project, a movement backed by small enterprises that encourages shoppers to pick three independently owned businesses and spend $50 a month at them.
She downloaded ready-made fliers and brochures from the project's Web site advertising its "buy local" mission.
Ms. MacCutcheon said results for the four-year-old Independence, Ohio, store were dramatic: Foot traffic increased by as much as 30 new customers a week on top of the usual trickle. By mid-June, sales for the month had topped $3,000, more than double that of some previous months. "I'm so excited because I thought I was going to go out of business," said Ms. MacCutcheon, 51 years old. "I don't think that's going to happen now."
The economic downturn has
prompted many consumers and neighborhood groups to actively support small businesses in their local communities, as residents pitch in to try to avoid boarded-up shops on Main Street.
Still, it remains unclear whether buy-local campaigns provide just a short-term boost or a lasting impact on revenues.
Dan Collins, owner of high-end pen store Gilbertson Clybourn Inc. in Chicago, sold only about two dozen Montblanc pens this past holiday season, as opposed to previous seasons' 200 to 400 average of the $350-plus pens.
So he put up a hand-written sign in the store's window: "Dear Customers, I understand why you're not coming in these days. This is a great time to buy a fine pen. All pens are drastically reduced. Sincerely, Dan."
After the local paper wrote a story about the sign, Mr. Collins saw 20 to 30 people drop by daily. "I don't know if they felt bad or sorry, but they actually came to my rescue," he said.
Eric Fridman, an assistant dean at Northwestern University's Kellogg School of Management in Evanston, Ill., picked up a $300 Visconti Van Gogh, discounted at 25% off. "I was feeling a little bit guilty in not supporting my local merchant," Mr. Fridman said.
But Mr. Collins said the bump in sales was temporary. Now, he only sees about one or two people dropping by, with many of them just wanting a refill. "That only lasted so long," he said.
A survey released in January by the Institute for Local Self-Reliance, a Minneapolis nonprofit research group, found that community efforts can often at least protect independent companies from the worst of the recession. Independent retailers in cities with buy-local campaigns saw holiday sales drop 3.2% from the previous year, compared with 5.6% in cities without them. There are about 100 such campaigns across the country, the group estimates.
Douglas Bachtel, a demographer at the University of Georgia in Athens, Ga., said buy-local
campaigns can succeed when customers understand that "dollars stay home" when they support independent companies in their communities.
"Hopefully, it's not just a fad but will continue to pick up," said Mr. Bachtel, also a professor of housing and consumer economics. "Educating a local population on the importance of buying locally is a long-learning process."
Groups such as the American Independent Business Alliance in Bozeman, Mont., help communities organize buy-local campaigns. The key, said co-founder Jeff Milchen, is to convince consumers "that choosing a local independent business is often the best overall value."
The 3/50 Project, created by Cinda Baxter of Minneapolis in March, has taken the buy-local creed across the country from Lake Havasu City, Ariz. to Hoboken, N.J. "It's really an investment program," Ms. Baxter said. Customers are investing their dollars in locally-owned businesses, which, in turn, improve their customer service. "It's making a difference," she said.
In Skippack, Pa., a group of 19 independent businesses worked together to spread word of the campaign. Each put in $10 to print out about 2,000 postcards that advertised to local customers that if they spent $150 total at any of the participating businesses, they'd get 10% off meals in local restaurants. More than 50 people have taken up the offer, handing in their postcards with stapled receipts to get a discounted dinner.
Customer Susan Steele, an e-marketing manager at Siemens Corp., said she now thinks first about patronizing local businesses, even though shopping online or at a nearby mall's chain stores is more convenient.
This week, she bought a pair of shorts at a local women's clothing boutique. "It takes a little bit more time, but it's worth it," she said.
For Ms. McCutcheon, the buy-local campaign has helped keep her shop afloat. For now. "This gives you the hope to keep fighting," she said.
Write to By Raymund Flandez at
raymund.flandez@wsj.com
copy Wall Street Journal
http://online.wsj.com/article/SB124631541083270621.html
Labels: energy savings in Maggie Valley, Lynda Bennett, Mountain Heritage, Waynesville